TCM, CUPPING & ACUPUNCTURE SYDNEY
HEAL NATURALLY WITH TRADITIONAL HOLISTIC MEDICINE
Acupuncture & Cupping is based upon the ancient theory and principles of Yin and Yang, opposite forces that work together to maintain balance and harmony. It drives a natural flow of motivating energy, moving in a smooth and balanced way through a series of meridians (or pathways) in the human body known as Qi (pronounced as Chee). These treatments promote your body's own natural energy to work more efficiently thus providing greater health & well-being preventing disease in a natural holistic way.
BALANCE YOUR INNERSELF TO MAXIMISE YOUR HEALTH AND WELLNESS
Our bodies are different from one another, and ancient traditional Chinese medicine (TCM) and science is based on personalised and custom treatments to deliver maximum results for your specific problem area without the prescription of drugs so that you can heal in a natural holistic way.
Sydney ACUPUNCTURE TREATMENTS
Acupuncture is an effective holistic treatment based on proven ancient theory and medicine. It involves the application of fine hairlike painless needles on to the body to boost a natural flow of motivating energy in a smooth and balanced way through a series of meridians (or pathways) in the human body known as Qi. Acupuncture has several benefits including treating common ailments, but also maintaining hormonal balance and supporting fertility.
Cupping, like Acupuncture, is a traditional medicine practice and based on the concept of promoting Qi. It involves placing cups on the skin to create suction, which in turn facilitates the increase in blood flow circulation. Cupping will relieve muscle tension, promotes cell repair, and helps form new connective tissues and blood vessels in the tissue to reduce pain and increase the healing process. With new innovative technology, our cupping treatments also include targeted red-light therapy within the cups for driving maximum results.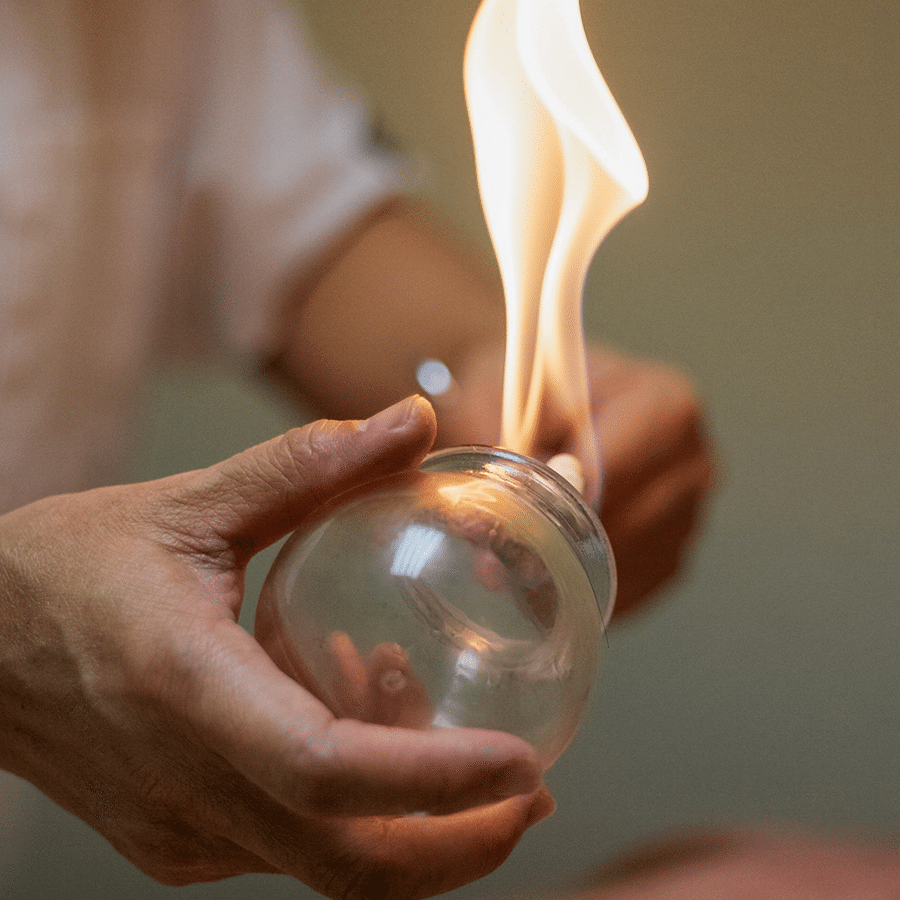 CUPPING & ACUPUNCTURE SYDNEY
Journey Through Ancient Healing
Acupuncture and Cupping at Cryo Stay Young are more than just treatments; they're a dive into the ancient world of holistic healing. Drawing from age-old Chinese medicinal practices, we provide a sanctuary where your body can find its rhythm and balance. Here, you don't just heal – you connect deeply with your inner self.
Dimple's acupuncture and cupping treatments have made a huge difference in my life. My immunity, my ability to deal with stress and, most of all, my digestive issues have vastly improved. The treatments work on so many levels! Dimple's extensive knowledge and experience, coupled with her caring nature, ensures each treatment is individually targeted to my needs and is very relaxing ...

Personalised Treatments for Holistic Wellness
Frequently Asked Questions - Understanding Acupuncture & Cupping
Embrace the Revival of Traditional Therapies
In an age where modern medicine dominates, there's a timeless strength in the ancient practices of cupping and acupuncture. At Cryo Stay Young, we merge tradition with innovation, offering treatments that are both rooted in history and enhanced by contemporary knowledge. Our commitment? To offer Sydney a holistic approach to wellness, where the old meets the new, and healing is both an art and a science.